Morning!

How are we all surviving the summer holidays so far? Mine has been pretty uneventful. I've felt like we have done lots of running around but with not much to report.

Yesterday was a sad day. We lost one of our chooks.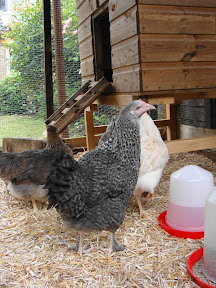 We noticed in the morning that Lola wasn't her normal scatty self. This was apparent as she was happy to be picked up, normally she legs it! Elli was so upset. She was her chicken you see. She had spent the day hugging her, willing her to get better. I discovered her after dinner, I'm just pleased that I did, not Elli.



Kev dug a deep hole and Elli placed her in it. It was all very sad. Kev is going carve an L for Lola in the log where she is buried.
Elli had a bad night sleep, she kept waking up and asking 'why?'. What could I say?




Our upset is probably nothing compared to all those people who lost their homes and businesses in the riots this week. Absolutely heart breaking.
Let hope this week is a happier more peaceful one. Miss Woo is off for 'Pony for a Day' today and me and the Curly Boy are off to Sugar Cane to hang out and get a sugar shake.
Peace out.