I can't believe that I didn't blog about Red Nose Day!
It's been the topic of conversation for a few months in our house. It started when Callum came home from school in January and announced that he wanted to straighten his hair for to raise some money. So we set up a Red Nose Day page and starting collecting sponsor money. Callum put his target as £50, he only thought he would get £10 though...... To our surprise he managed to raise £457!! I've got to thank everyone for their generosity, especially all my Twitter friends and my dear friend Ryan.
Mid straightening...
And here are a few pictures of the end result....
Elli's school had a bad hair day theme to raise money too. Here is her bad hair day...
Today I've been to London ( I'm actually writing this on the tube). It's my month check up at London Vision Clinic. My eyes are doing really well, one still slightly swollen but my prescription is 0, whoop whoop! To thank my wonderful surgeon, Dr Dan, I made him this card...
Talking of cards, I made a handful of cards for my cousin florist and placed them in a yummy box. I hope they sell!
In other news the doggies have had their hair cut..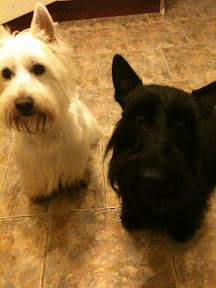 Awwwww!
posted with love and bugs from Bugphone, my iPhone.